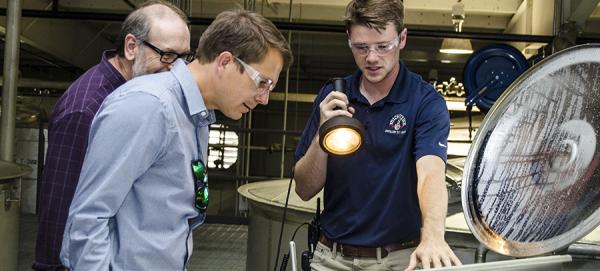 Undergraduate Certificate in
Distillation, Wine and Brewing Studies
Learn the foundations of the alcohol industry to set you up for a successful career in this booming industry. This online program equips students with the foundational science of distillation, wine making and brewing.

The University of Kentucky is significantly invested in faculty, resources and farmland to advance the knowledge on the distillation, wine and brewing industries. Students gain these advantages through this program. Career options are broad and DWBS alumni are working as new product developers, quality control analysts, vineyard and winery technicians, distillery managers, brewery microbiologist, and more!
Apply now
At a Glance
Fall 2024 (Transfer deadline is July 1)
Spring 2024 (Transfer deadline is Nov. 15)
Summer 2024 (Transfer deadline is April 15)
Credits and Tuition Cost (2023-2024)
Credits Required: 12
Cost Per Credit: $611.00
Request Information
Learn more about the
Distillation, Wine and Brewing Studies
online program.
We launch critical & innovative thinkers, creators, and doers.
Fill out this form to be sent information specific to your program of interest, including deadlines, tuition, application requirements and more!
Undergraduate Certificate in
Distillation, Wine and Brewing Studies
overview
What You'll Learn
Overview
You will gain the fundamental knowledge of the alcohol product industry in three distinct tracks: distillation, wine or brewing. You customize your area of focus by selection of your track and elective classes you take. 
Course Examples
HRT 335 Distillation, Wine, and Brewing Science
A&S 306 Spirit Chemistry
2 approved electives of your choice
How to Apply
Application Requirements
Admissions Criteria
Deadlines
Fall 2024 (Transfer deadline is July 1)
Spring 2024 (Transfer deadline is Nov. 15)
Summer 2024 (Transfer deadline is April 15)
Distance Learning
Licensure & Authorization
Where you live matters when completing distance education activities. If you will live outside of Kentucky while completing your program, please check the Distance Learning Authorization & Licensure page to confirm that the program can be offered in your state or country, and if relevant, that it meets professional licensure requirements in your state. Please note: Admission and enrollment in a fully-online program can NOT lead to the issuance of a J-1 or F-1 student visa.
AUTHORIZATION & LICENSURE INFO
University of Kentucky has been approved to participate in State Authorization Reciprocity Agreements.
Student Support
Once you become a student, you will have access to a wide variety of academic support services to maximize your success. These services are available completely online to meet the needs of our online students.
Testimonial
The Distillation, Wine, and Brewing certificate has allowed me to take interesting classes that have given me experience in brewing my own beer, sensory exercises, and a strong vocabulary to have meaningful conversations with distillers and enthusiasts. I have thoroughly enjoyed my experience and feel prepared for entering the workforce upon graduation.