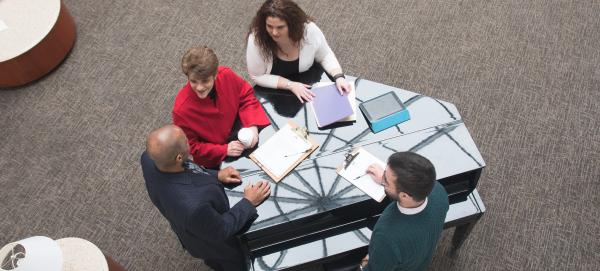 Doctorate (Ph.D.) in
Arts Administration
Lead with impact in the arts and culture field. This online doctoral program focuses on mastering research methodologies to lead arts organizations and future generations of arts administrators through higher education.
Apply now
At a Glance
Credits and Tuition Cost (2023-2024)
Credits Required: 43
Cost Per Credit: $737.00
Request Information
Learn more about the
Arts Administration
online program.
We launch critical & innovative thinkers, creators, and doers.
Fill out this form to be sent information specific to your program of interest, including deadlines, tuition, application requirements and more!
Doctorate in
Arts Administration
overview
What You'll Learn
Overview
Designed for the working professional who wants to gain expertise for a research-intensive career, this rigorous, online program can be completed in as little as four years. 
As a student in this program you will:
Apply theoretical concepts and frameworks to arts administration problems.
Solve problems through quantitative and qualitative research and conceptual analysis.
Develop a conceptual framework based on theories that will prepare you to advance knowledge in the field.
Conduct original research on issues in arts administration.
Transcend traditional modes and mechanisms in order to innovatively collaborate with peer colleagues, industry professionals, and faculty.
Course Examples
AAD 629 Organization Theories in Arts Administration
AAD 655 Cultural Policy
AAD 665 Creative Cities, Creative Placemaking, & Community Vibrancy
AAD 720 Sustaining Leadership in the Arts
AAD 790 Arts & Culture Research Studies
AAD 767 Dissertation Residency Credit (2 credits)
AAD 790 Arts & Culture Research Studies
EPE/EDP 557 Gathering, Using and Analyzing Educational Data
EPE 619 Survey Research
EPE/EDP 620 Introduction to Evaluation
EPE 663 Field Studies in Educational Settings
EPE 797 Historical Research on Education
AAD 795 Arts Administration Research Planning and Proposal Writing
How to Apply
Application Requirements
Standard graduate application requirements apply.
Resume
Statement of purpose: Your desire to pursue a PhD in Arts Administration at UK as well as preliminary research interests and career goals.
Writing Sample: One or more academic or professional writing samples, at least 20 pages in length not to exceed 50 pages.
Three letters of recommendation (emails addresses only).
If requested, participation in a video interview.
Admissions Criteria
Distance Learning
Licensure & Authorization
Where you live matters when completing distance education activities. If you will live outside of Kentucky while completing your program, please check the Distance Learning Authorization & Licensure page to confirm that the program can be offered in your state or country, and if relevant, that it meets professional licensure requirements in your state. Please note: Admission and enrollment in a fully-online program can NOT lead to the issuance of a J-1 or F-1 student visa.
AUTHORIZATION & LICENSURE INFO
University of Kentucky has been approved to participate in State Authorization Reciprocity Agreements.
Student Support
Once you become a student, you will have access to a wide variety of academic support services to maximize your success. These services are available completely online to meet the needs of our online students.