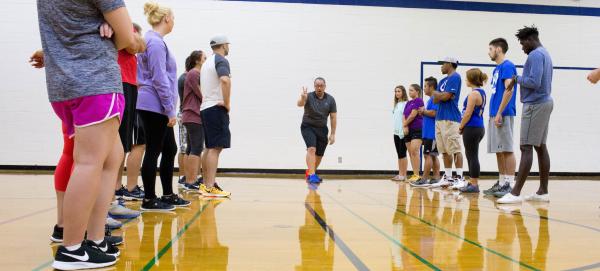 Doctorate (Ph.D.) in
Education Sciences - Physical Education Option
Dive into research and gain more insight into physical education. Go beyond physical activity promotion and dive into research topics and courses that address epidemiology, sociology, behavior science, and public health. This online doctoral program suits physical education instructors, higher education researchers and athletic directors.
Apply now
At a Glance
Credits and Tuition Cost (2023-2024)
Credits Required: 38
Cost Per Credit: $737.00
Request Information
Learn more about the
Education Sciences - Physical Education Option
online program.
We launch critical & innovative thinkers, creators, and doers.
Fill out this form to be sent information specific to your program of interest, including deadlines, tuition, application requirements and more!
Doctorate in
Education Sciences - Physical Education Option
overview
Hear from Program Leaders
Sign up for a Virtual Open House
What You'll Learn
Overview
Students are admitted into our program through a mentor-based admission process, under the direct supervision of a specific faculty member. We encourage you to identify the faculty member with whom you wish to work with prior to applying to the program. For a brief introduction and contact information, you may view the bios of:
In addition to getting acquainted with our faculty, you will have the opportunity to discuss research interests and potential dissertation areas.  Our program typically takes between 3-5 years, including your dissertation. 
Course Examples
KHP 601 Teaching Effectiveness and Leadership in KHP
KHP 602 Promoting Physical Activity for Youth
KHP 579 Adapted Physical Education
KHP 644 Research Techniques Applied to Kinesiology and Health Promotion KHP 674 – Foundations of Health Promotion
KHP 675 Health Assessments
EDC 610 Discipline & Classroom Management
EDP 613 Social Psychological Issues in Education
EDP 614 Motivation and Learning
EDS 580 Special Education
EPE 617 Introduction to Higher Education
EPE 672 College Teaching and Learning
EPE 684 Higher Education and Athletics
EPE 653 History of Higher Education
EPE 703 Preparing Research Proposals
EDC 712 The Elementary School (Curriculum Theory)
How to Apply
Application Requirements
Admissions Criteria
Standard graduate admission requirements apply.
A master's degree or 30 semester hours of approved graduate course work with a 3.0 GPA. 
A combined Verbal and Quantitative GRE score of 297 (minimum verbal score of 153 and Quantitative score of 144) on the revised GRE test taken on August 1, 2011 or after. 
A sample of scholarly writing
Three (3) letters of recommendation
Distance Learning
Licensure & Authorization
Where you live matters when completing distance education activities. If you will live outside of Kentucky while completing your program, please check the Distance Learning Authorization & Licensure page to confirm that the program can be offered in your state or country, and if relevant, that it meets professional licensure requirements in your state. Please note: Admission and enrollment in a fully-online program can NOT lead to the issuance of a J-1 or F-1 student visa.
AUTHORIZATION & LICENSURE INFO
University of Kentucky has been approved to participate in State Authorization Reciprocity Agreements.
Student Support
Once you become a student, you will have access to a wide variety of academic support services to maximize your success. These services are available completely online to meet the needs of our online students.