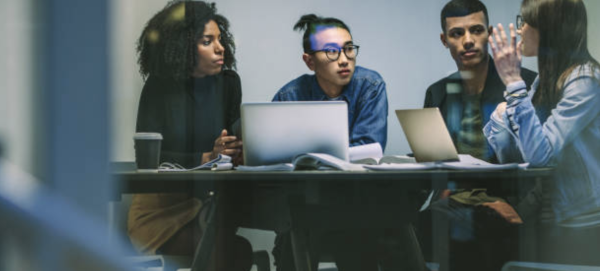 Masters (MS) in
Educational Research Methods and Policy Studies
Apply research skills and data analysis to real-world problems in education and other settings. This online program will prepare you to analyze data and communicate results to expert and non-expert audiences. Graduates of our program work in a wide variety of fields, including school districts, state and federal agencies, and health-related organizations.
Apply now
At a Glance
Credits and Tuition Cost (2023-2024)
Credits Required: 37
Cost Per Credit: $737.00
Request Information
Learn more about the
Educational Research Methods and Policy Studies
online program.
We launch critical & innovative thinkers, creators, and doers.
Fill out this form to be sent information specific to your program of interest, including deadlines, tuition, application requirements and more!
Masters in
Educational Research Methods and Policy Studies
overview
Hear from Program Leaders
Sign up for a Virtual Open House
What You'll Learn
Overview
In the program, students will examine current educational policy issues through social, historical, philosophical, cultural, and political lenses. Concurrently, the program is designed to provide students with a core suite of research and policy analysis tools, including courses in quantitative, qualitative, evaluation, and survey research methods. Students completing the degree program will be well prepared for a variety of professional and academic placements, including K-12 or postsecondary institutions, testing organizations, state and federal agencies, or further doctoral study.
Each Educational Research Methods and Policy Studies student will choose one concentration area with six required credits and supporting electives for the concentration area with a minimum of nine required credits. All suggested supporting elective courses listed below are available in an online format. Students are not limited to the listed electives; students choose elective courses in conjunction with their advisor. Moreover, students can take up to 3 hours of independent study (EPE 785) and up to 12 hours of internship credit (EPE 790).
Course Examples
EPE/EDP 557 Gathering, Using, and Analyzing Educational Data I OR
EPE/EDP 558 Gathering, Using, and Analyzing Educational Data II
EPE 571 Writing Seminar in Ed Research
EPE 601 Proseminar
EPE 602 Social Policy Issues in Education
EPE 619 Survey Research
EPE/EDP 620 Introduction to Evaluation
EPE 663 Field Studies in Educational Settings
One contextual studies (i.e. non-research methods) course
How to Apply
Application Requirements
Standard graduate application requirements apply.
Personal Statement - 500 words explaining how your personal goals align with what the program offers
CV - Please include work history, any certifications/license, publications and research, and hobbies or special interests.
Two letters of Recommendation (Only email addresses required. Our system will email them to upload their reference.) 
Admissions Criteria
Distance Learning
Licensure & Authorization
Where you live matters when completing distance education activities. If you will live outside of Kentucky while completing your program, please check the Distance Learning Authorization & Licensure page to confirm that the program can be offered in your state or country, and if relevant, that it meets professional licensure requirements in your state. Please note: Admission and enrollment in a fully-online program can NOT lead to the issuance of a J-1 or F-1 student visa.
AUTHORIZATION & LICENSURE INFO
University of Kentucky has been approved to participate in State Authorization Reciprocity Agreements.
Student Support
Once you become a student, you will have access to a wide variety of academic support services to maximize your success. These services are available completely online to meet the needs of our online students.